Redesigning a college website to wrangle a decade of unorganized content
Hope College is an exceptional liberal arts college in Holland, Michigan, known for its academic rigor, vibrant spiritual life, and unparalleled undergraduate research programs. Unfortunately, their website reflected almost none of that. With ambitious vision, they partnered with Mighty to create not just a new look and feel, but a whole new strategy, new content, and new processes—all at once. Together, we changed not just their digital presence, but the way Hope College communicates online.

Services
Strategy, Information Architecture, Wireframes, Visual Design, Front-end Development, 3rd-party Integrations, Project Management, Content Governance Planning, Copywriting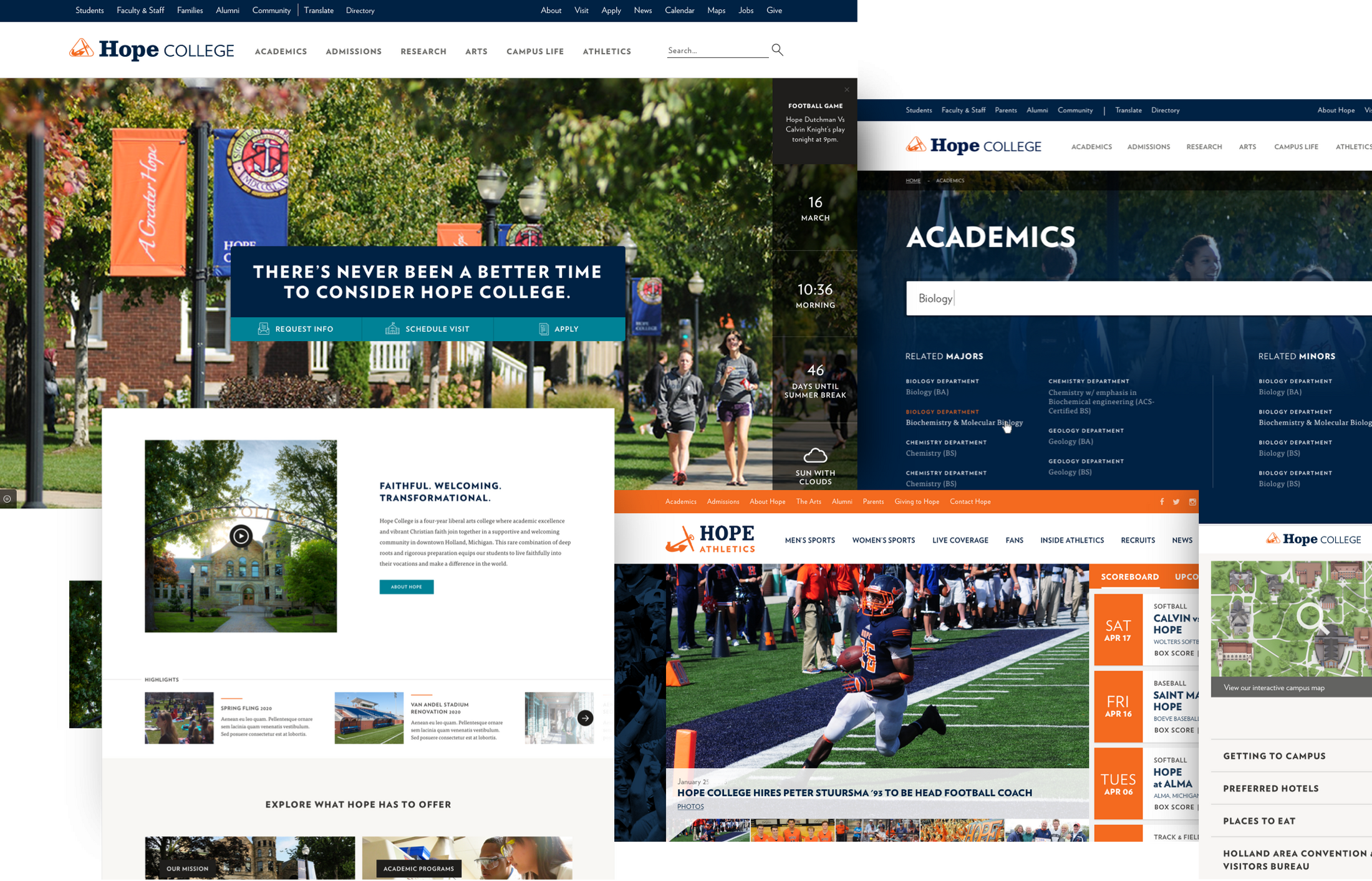 Challenge
Hope College's website had been designed and developed more than a decade earlier, and it was time to start from scratch. Rather than slap a pretty new design on the underlying problems and call it done, Hope wanted to tackle their website redesign "the right way." They knew that meant starting with research and content strategy. Hope's site included more than 60,000 pages of content across hundreds of subdomains and dozens of intersecting technology platforms. Therefore, there were no standards for creating or maintaining content and hundreds of individual content editors with no one in charge.
Outcome
Through research, involving more than 150 participants, we created user personas and scenarios to guide our work. In lockstep with Hope's Integrated Marketing Team, we inventoried and audited the site to create a new information structure, content templates, and a design that leveraged their newly-developed brand. Our front-end developers brought the design to life, then collaborated with Hope's selected CMS partner, OUCampus, to push their product to new heights. We even helped usher in a whole new department and equipped the team with governance tools to manage the website for the long-term.
Clients Say
We've been working with Mighty since 2013 and they are truly an extension of our team. Mighty's recommendations, solutions, and work helped us understand our audiences and established the foundation for Hope's website and web content. Their ability and willingness to discuss ideas and solve big problems as strategic partners has continued to influence our digital marketing.
—Jason Cash, Director of Web Communications
Research
Impressed with our web expertise and thoughtful approach to content strategy and design, Hope College chose Mighty from a pool of about a dozen national and local design firms.
In addition to content, analytics, and brand inventories, Mighty spent a total of five days on the Hope College campus leading 19 focus groups and 3 open forums with more than 150 total participants from all areas of the college. The participants' answers gave us an understanding of Hope's website users based on real people and real needs, not guesses and assumptions.
We used this research to develop 15 user personas and scenarios. These profiles helped everyone involved understand who Hope's audiences are and what they are looking for while visiting their sites.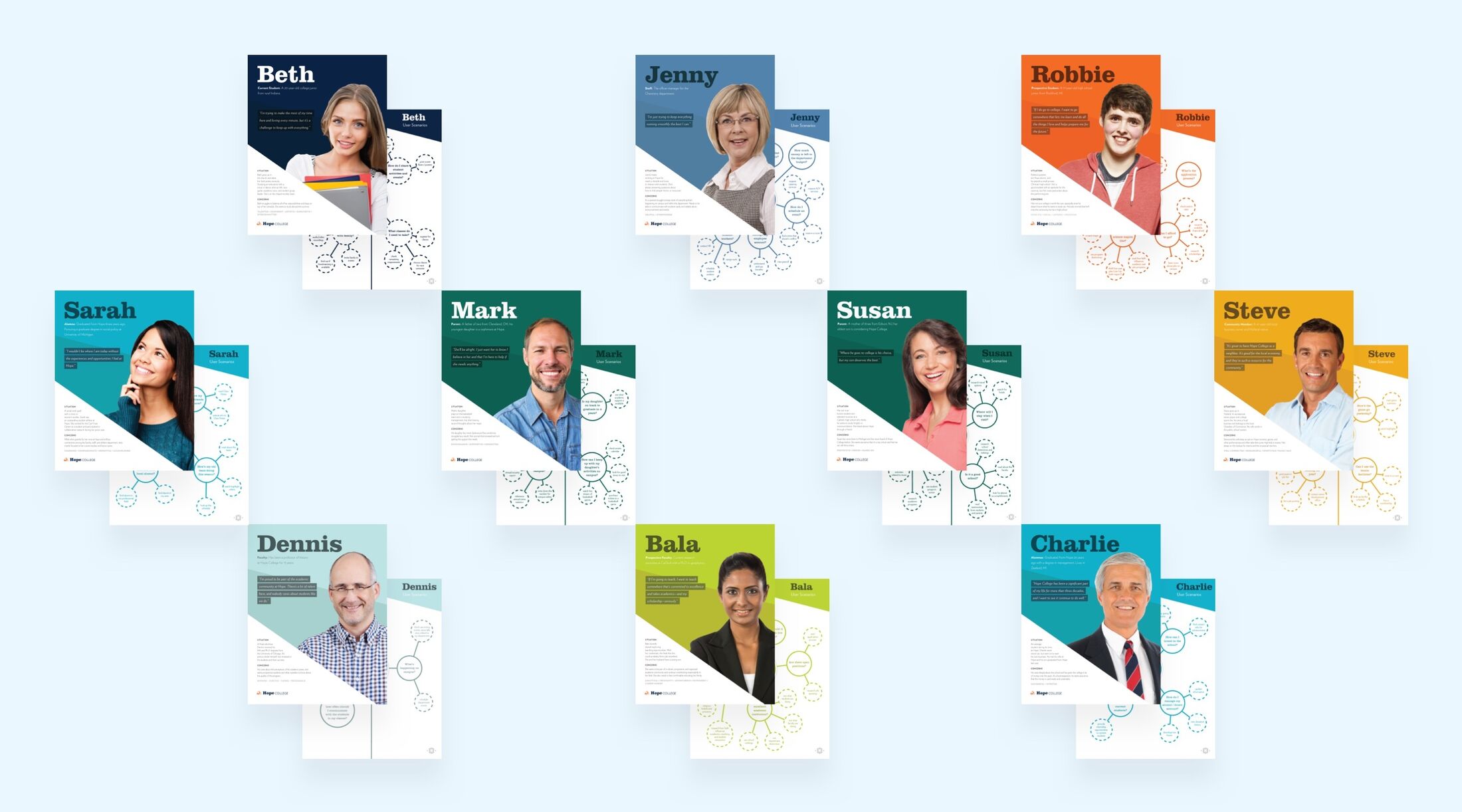 Strategy & Information Architecture
Based on the needs and goals we identified during our research, we broke down the existing website content and structure and rebuilt the information architecture from the ground up. The result would be a massive new site map and more than a dozen detailed page strategy documents. These provided a strategic foundation and specific content recommendations for key areas of the new Hope College site.
We were impressed by Mighty's focus and thoughtful approach to web content strategy in addition to design. We knew we needed a full web content strategy overhaul — not just a redesigned website.
—Jason Cash, Hope College
Design & Development
We began with wireframes, arranging the required page elements into intuitive layouts and structures.
Next, we fleshed out three complete design concepts ranging from conservative to aggressive. In the end, we landed in the middle with a modern design that captures the vibrant spirit of the Hope brand.
After extending the concept into more than a dozen unique layouts, we developed the front end code responsively. This means that each page and interaction is visually pleasing and all functions work perfectly whether you're on a desktop, tablet, or smartphone.
Following this, we worked closely with their CMS partner, OUCampus, to map the front end code to the content management system so that the architecture, content relationships, and functionality we designed worked the way we envisioned and planned. We also developed front end code to visually and functionally integrate with Localist, whom Hope had selected to power their events calendars.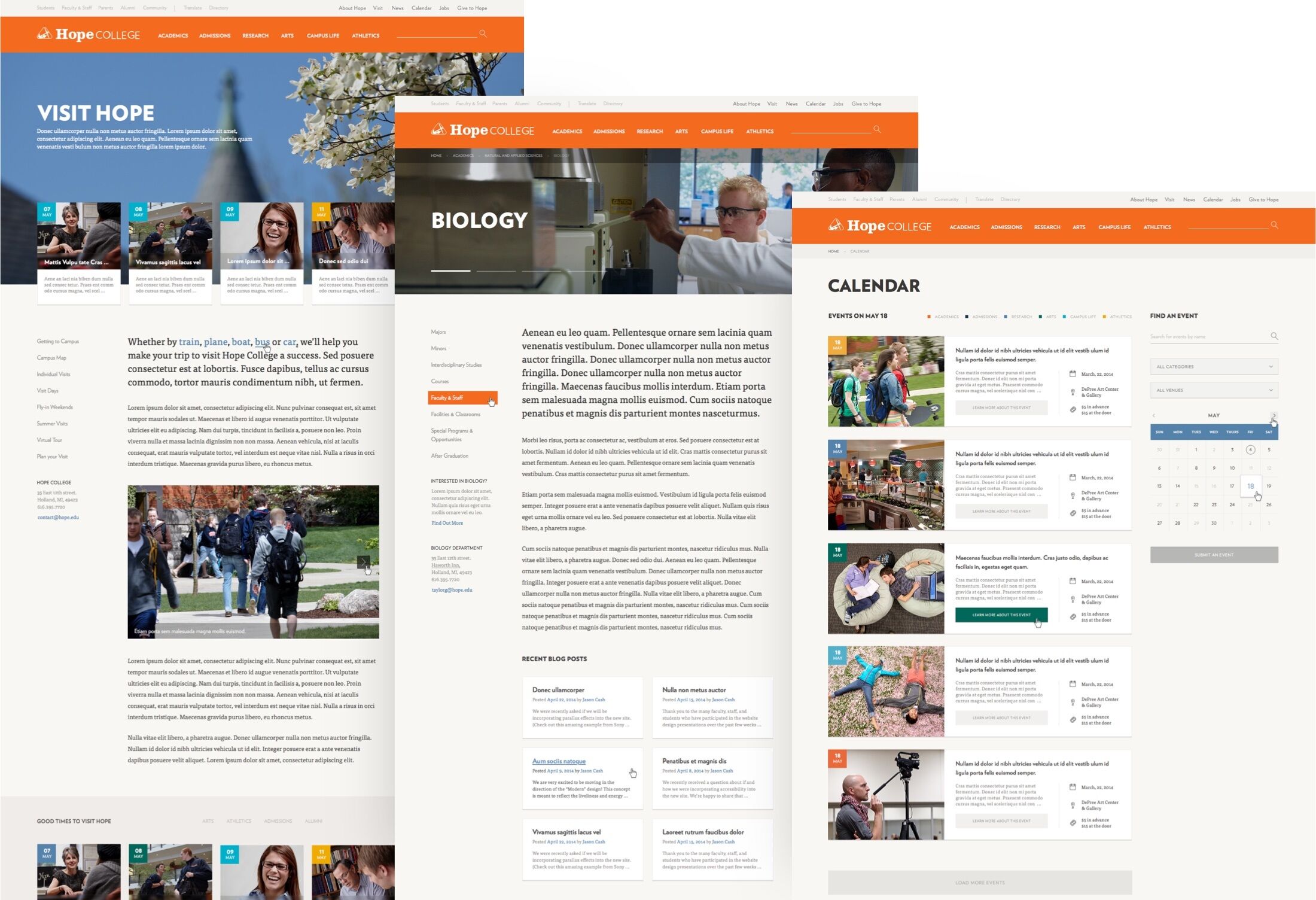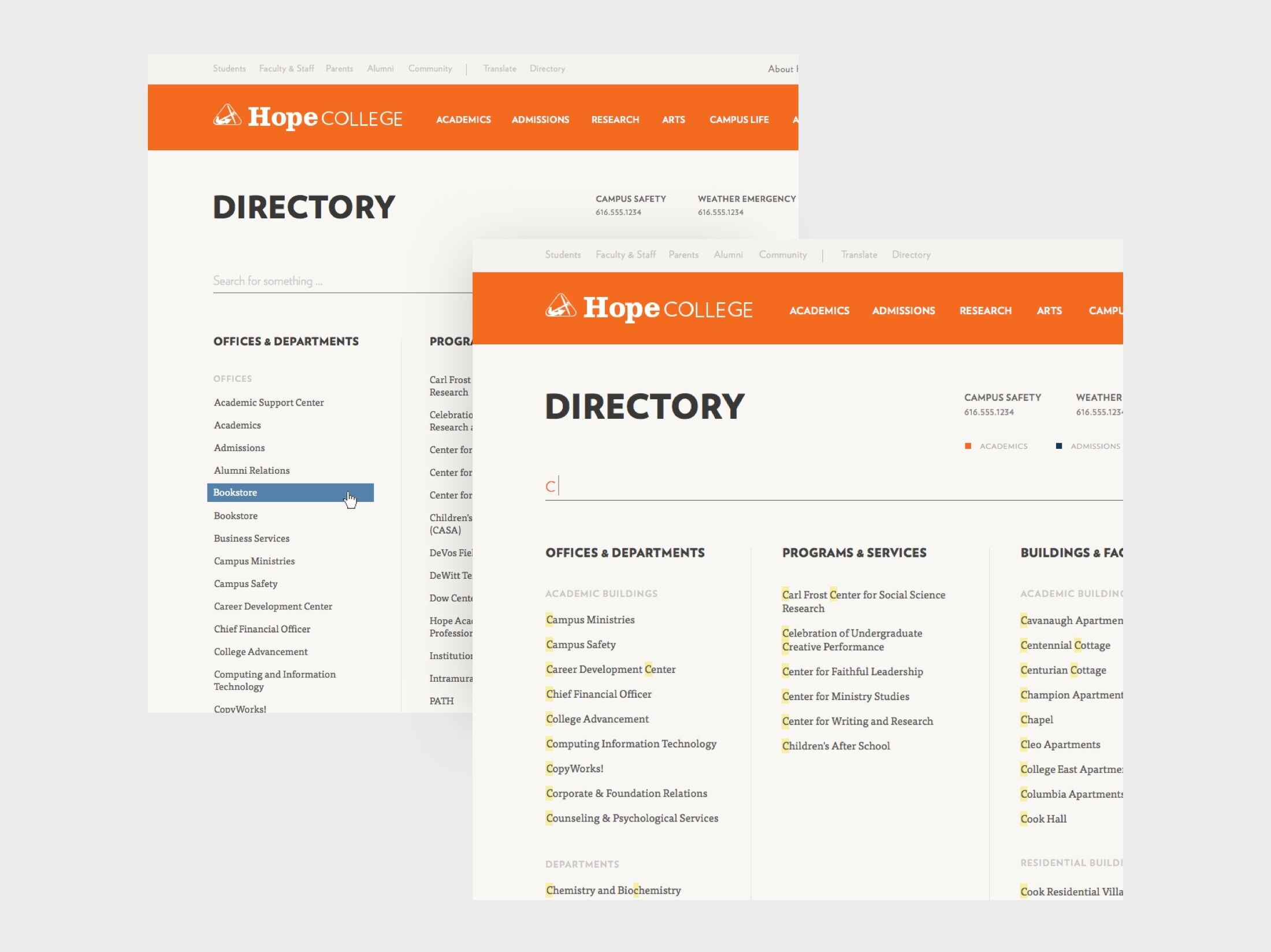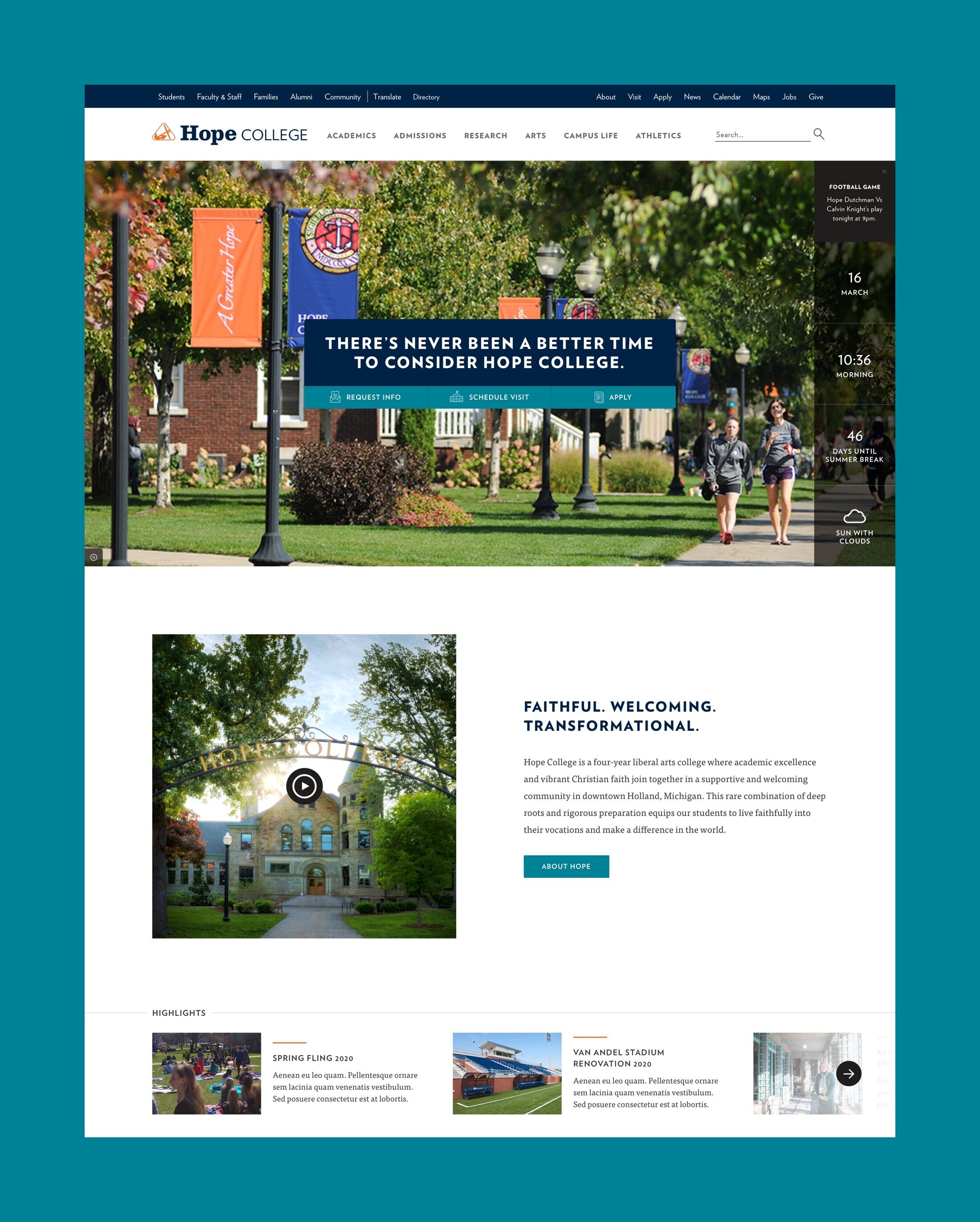 Content Governance
With design and front end development wrapped, we began work with Hope to prepare content for the new site and roll out brand-new governance processes and workflows, including guidelines and workshops to train their content teams.
We collaborated to define the content production and maintenance process, to define roles and responsibilities, and to create four distinct content workflows to support varying needs throughout the college and the website.
For every major section of the site, we defined specific content requirements, complete with fields, character limits, and maintenance recommendations. Not only were these useful for content creators, but they also provided valuable guidance for ongoing CMS development.
Finally, we developed Hope College's verbal brand, voice, and tone. We wrote and designed web content guidelines to equip Hope's content team with an easy primer on content strategy, writing for the web, and more—all while delivering it in a format that they could edit and maintain themselves.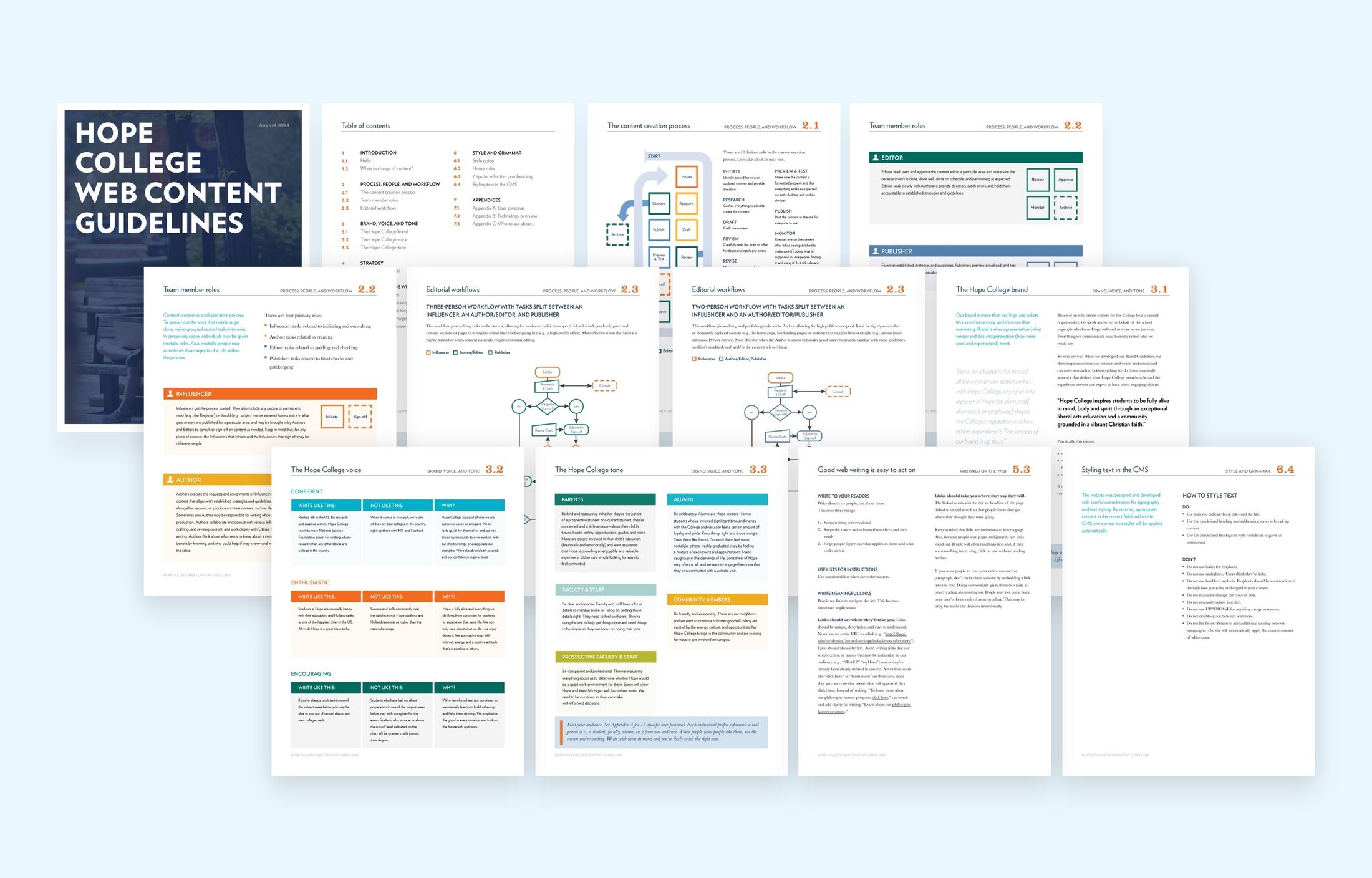 Results
Over a two-year period, Mighty worked across campus to overhaul Hope's website content, seamlessly integrate 3rd-party services, and enhance the entire user experience. The website and all of its content is now centrally managed by Public Affairs & Marketing, a department born out of the work done between Mighty and Hope College. Since launching the new site, Hope has seen a 46% increase in sessions overall and a 25% increase in unique pageviews to their Admissions section.
We've continued to work with Hope on a number of projects since their initial website redesign and content overhaul. They invited us back to redesign their Athletics website, design and develop websites for two of their affiliate programs, create content for several academic departments and offices, and to audit and update their sites for accessibility and ADA compliance.

Our relationship has evolved into a great team approach that has allowed us to work easily and seamlessly on projects both big and small. When we work with Mighty, they are an extension of our internal team.
—Jason Cash, Hope College
Have an idea? A project?
Our favorite clients tend to treat us as part of their team (and vice versa). If you're looking to make something digital and interesting, we'd love to help you bring your ideas to life.
Let's talk