Guiding a global automation leader through organizational change
It was a period of rapid growth and massive organizational change for JR Automation. When they reached out to us in 2017, they were on the cusp of finalizing strategic acquisitions across North America, Europe, and Asia—exponentially increasing their footprint and cementing their standing as an intelligent automated manufacturing and distribution technology leader.
Everything was in flux. Already, the company had set a 3-year goal to fully unite their new brands under the JR Automation name, but the marketing team had no real idea how to get there. Mighty was their guide, providing research, information architecture, design, content, analytics implementation, and technical direction to their development partner to roll out a new digital presence. The site launched in 2018.
Less than a year later, they were acquired by Hitachi, Ltd., and merged the entire family of JR Automation companies into a single, global automation provider in 2021—right on schedule. Mission accomplished.
Location
Holland, Michigan
Services
Strategy, Information Architecture, Wireframes, Visual Design, Project Management, Copywriting, Technical Direction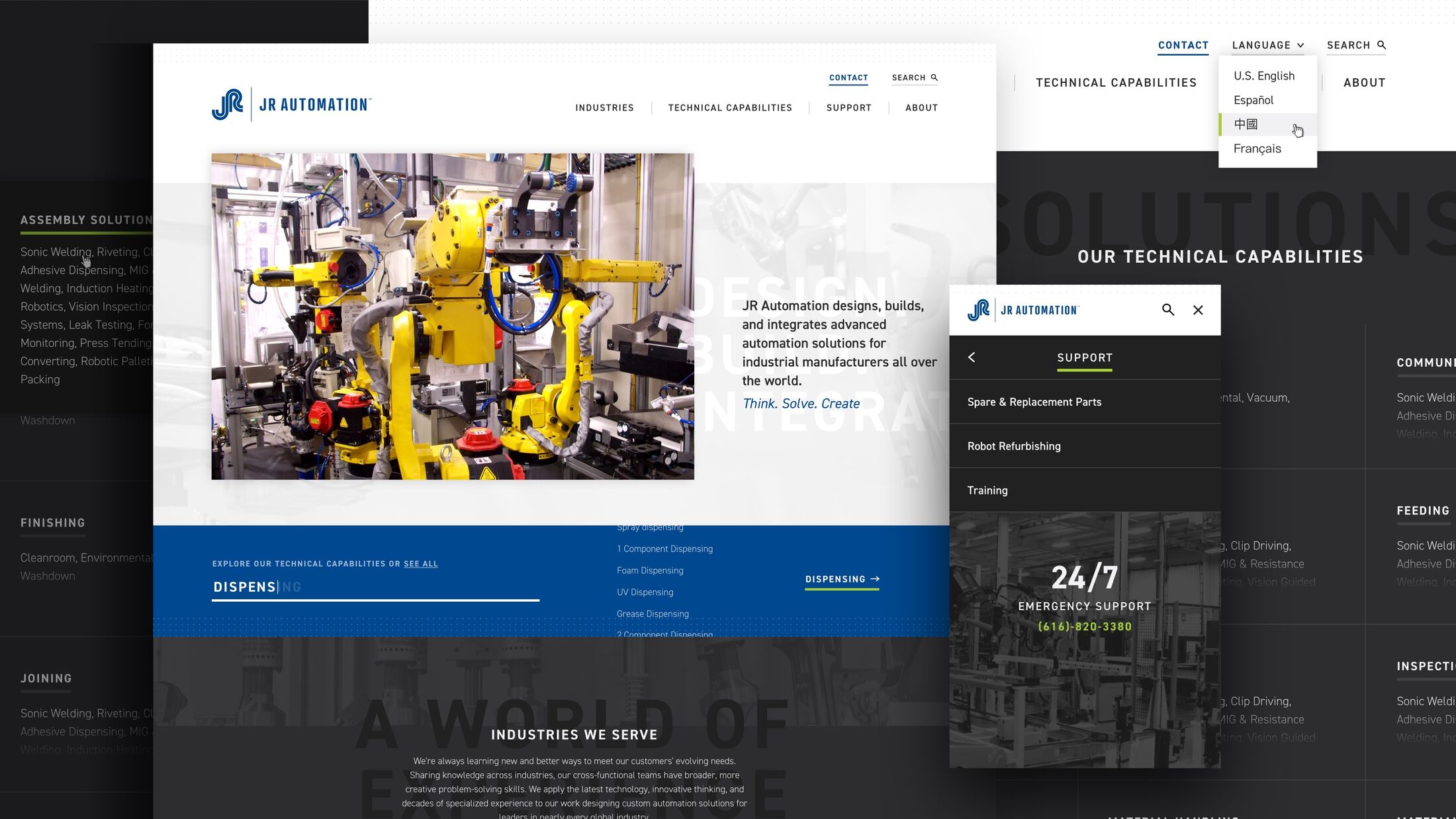 Understanding the challenge
Since 1980, JR Automation had built a reputation as a global factory automation leader from their headquarters in Holland, Michigan. Now, suddenly, they were actually a global company—with new stakeholders, capabilities, and locations all over the world. In our initial conversations, it became clear just how unclear next steps were for the JR Automation team.
They'd started, of course, and had made some serious progress. They had the beginnings of a new visual brand with updated vision and mission statements; they had made a few technology decisions and selected a development partner. What they needed now was a strategic team to help them figure out what to do. They wanted a creative digital solution that could leverage technology to reach their customers with relevant content and generate leads, based on a growing international brand. Mighty's focus on digital and our approach to content made us an ideal partner.
Given the number of unknowns, we proposed a phased approach. In Phase 1, we'd focus on understanding the goals, users, brand, content, and technical requirements, and lay a strategic foundation for future work. Upon completion of Phase 1, we'd confirm an approach and estimate for Phase 2.
Defining the direction
Through a kickoff workshop and interviews, we identified and confirmed goals and objectives, and gathered information to create user personas to help guide content, design, and feature requirements.
Drawing from both historical and new brand documents, we developed voice and tone guidelines. We also created an inventory and audit of existing content, and analyzed available website data to plan for the creation of new site content.
At the same time, we set up meetings to collaborate with JR Automation's selected CMS development partner around requirements, features, and other technical considerations for the project.
Then, we organized content around goals and user needs to create a site map and outline content priorities, and began to give it all shape through wireframes. We also used mood boards to envision how the brand identity could be applied online.

Using these content and design strategy artifacts as a guide, we designed a full size and pocket (mobile) size design concept for the website.
JR Automation was thrilled, and we started in on Phase 2—working to create the design, produce the content, direct implementation, and enable measurement.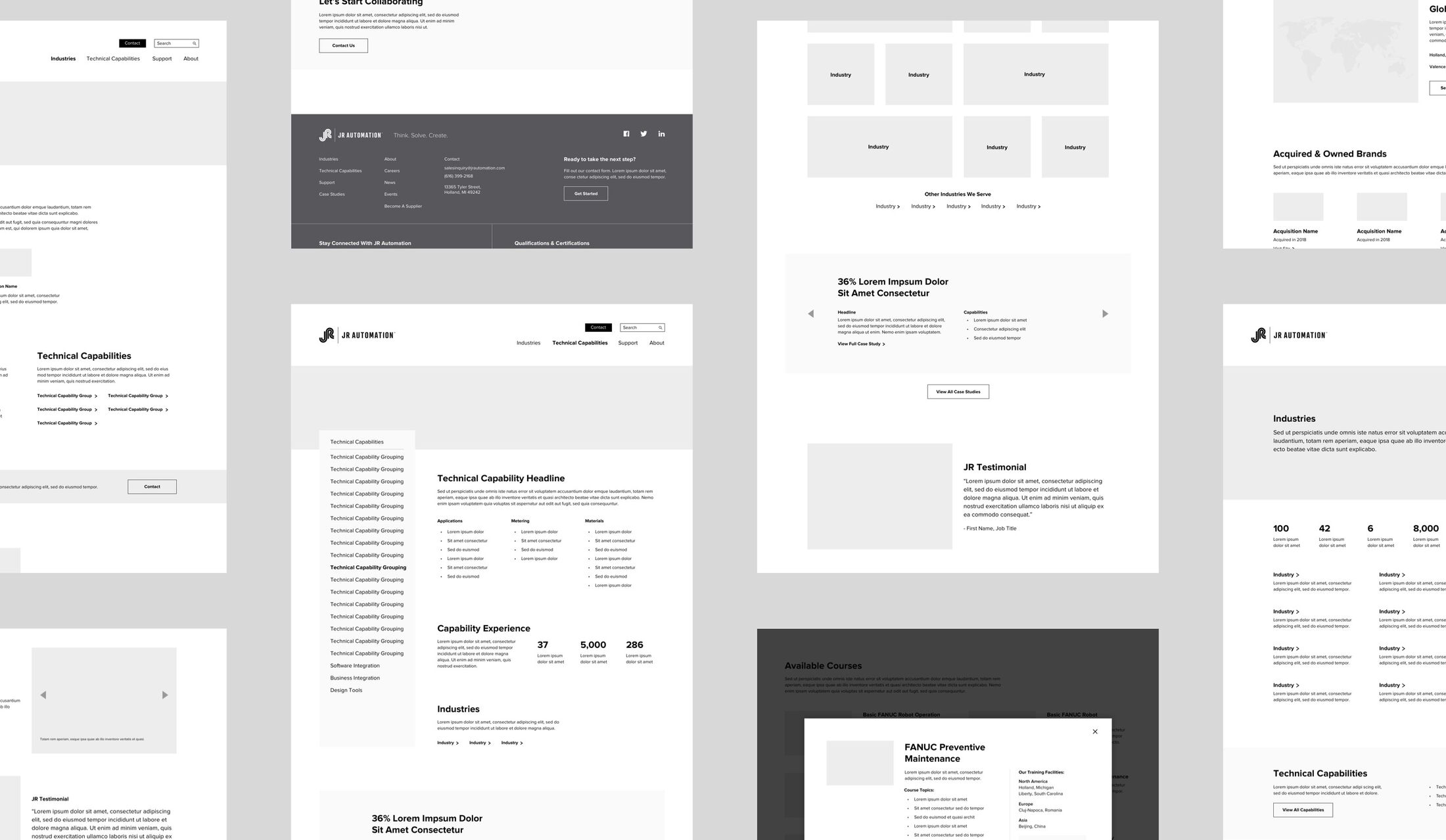 Designing the solution
Based on the approved sitemap, wireframes, and concept from Phase 1, we designed a full set of mockups for the JR Automation website, including mobile versions. We also provided a suggested shot list for photography.

Telling the story
We worked collaboratively with JR Automation to plan for content production, prioritize writing, and assist with writing for the website. This included creating a content production plan, copywriting, editing, and technical SEO help, including metadata writing and redirect planning.

Later on, closer to launch, JR Automation came back to us for additional help organizing content and populating and testing it in the CMS.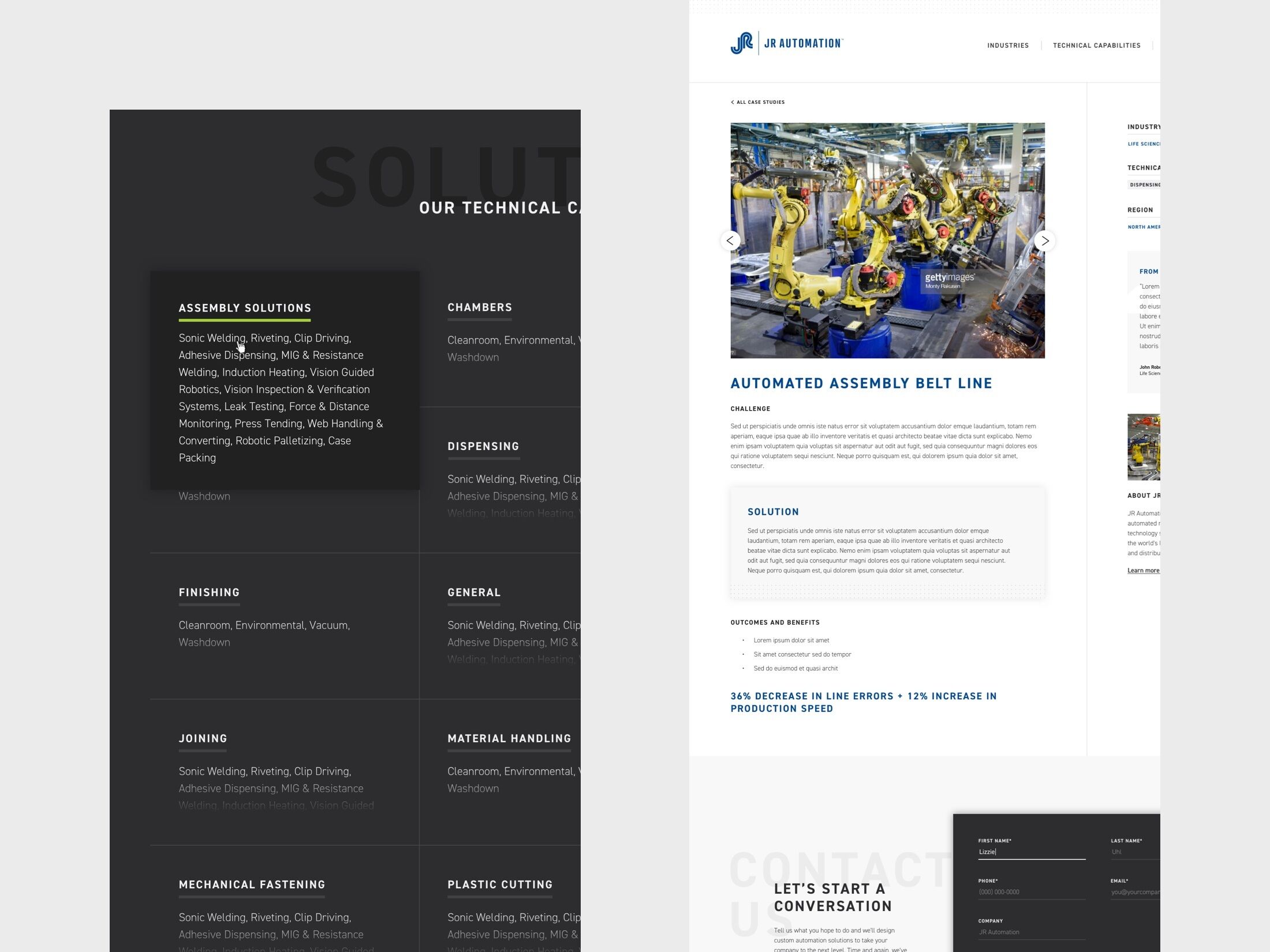 Directing the implementation
Before we'd even started working together, JR Automation's CIO had already decided he wanted their new website built on Sitefinity, and they'd already selected another partner for developing the site. We'd worked with that partner before, and had a good working relationship.
Mighty developers typically work in Craft CMS for a host of reasons (ask us about it!), but our strong technical competencies, broad digital expertise, and keen attention to detail have made us valuable partners to direct, manage, and collaborate with other technical teams.

Our strategy and design team supported the development team through meetings, Slack collaboration, and review from design handoff until launch, managing the entire project to coordinate communication between them and JR Automation.

As features were released to development and staging environments, we tested the site and provided a detailed list of identified bugs and issues, using that partner's preferred bug tracking system to ensure the result met client expectations.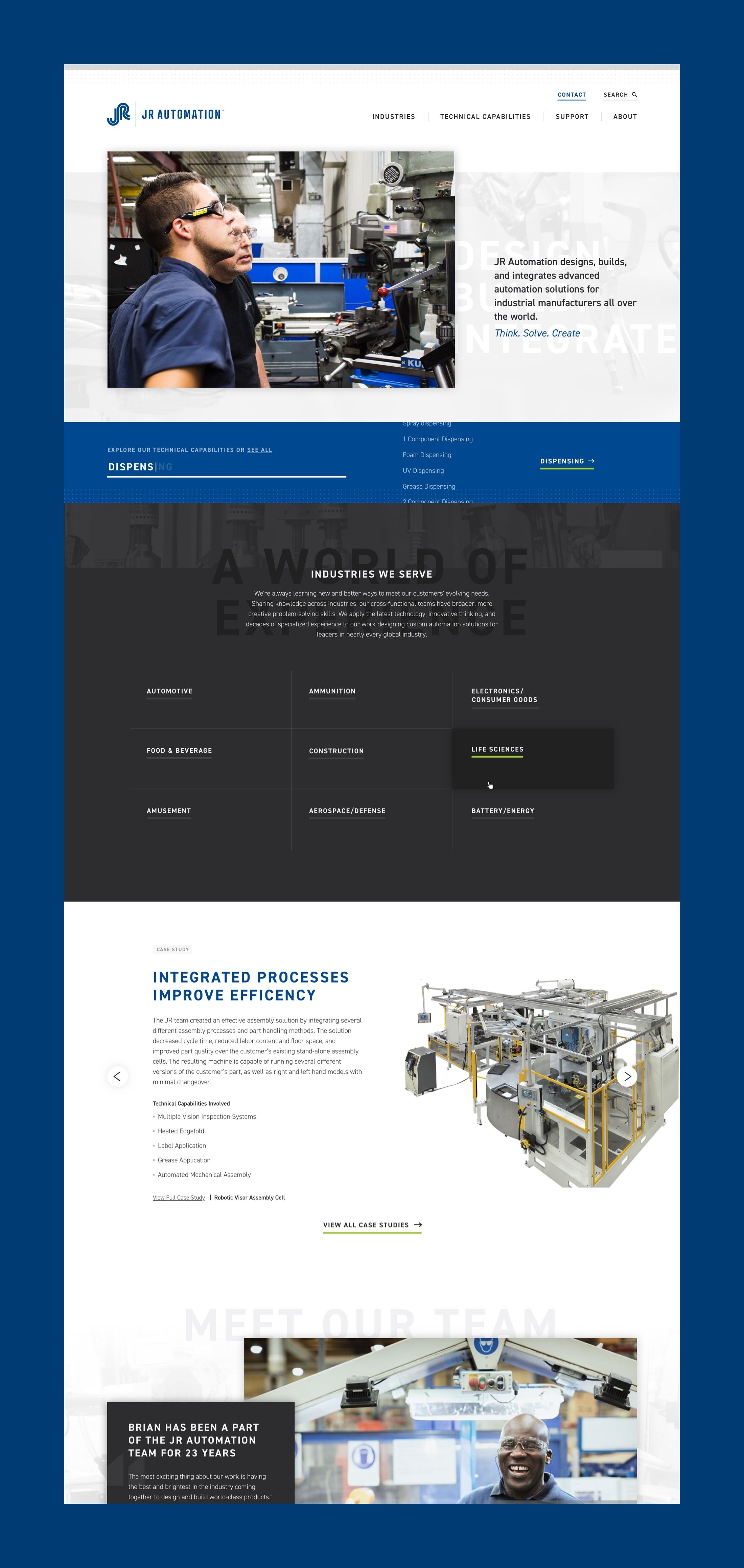 Enabling measurement
We planned, implemented, and configured website analytics, including Google Analytics, Google Tag Manager, Hotjar, and more.
Part of the work was implementing a cookie consent management solution; as an international company, existing European cookie laws and the newly-passed GDPR regulations would apply to JR Automation. We selected a service called Cookiebot and, long before the days of Google Consent Mode or even any real documentation, created custom methods for controlling all site tags through Google Tag Manager to respect user consent.
We thoroughly documented everything and conducted an analytics training session for the JR Automation team, empowering them to manage their tags—and measure their website's performance and impact—long into the future.

Have an idea? A project?
Our favorite clients tend to treat us as part of their team (and vice versa). If you're looking to make something digital and interesting, we'd love to help you bring your ideas to life.
Let's talk