Millions of configurations, thousands of quotes, and one headless CMS
Memo hadn't yet defined its product lines, SKUs, options, materials, or pricing. But, Memo had determined that approachable technology would be the foundation of its business. And, engaged Mighty from day one. We examined conceptual products to define options, established a base SKU and option code system, identified dependencies and configuration rules, and then built technology to configure and quote Memo products. We couldn't have done this without our experience and expertise in contract furniture.

Services
Information Architecture, Front-end Development, Craft CMS Development, Vue.js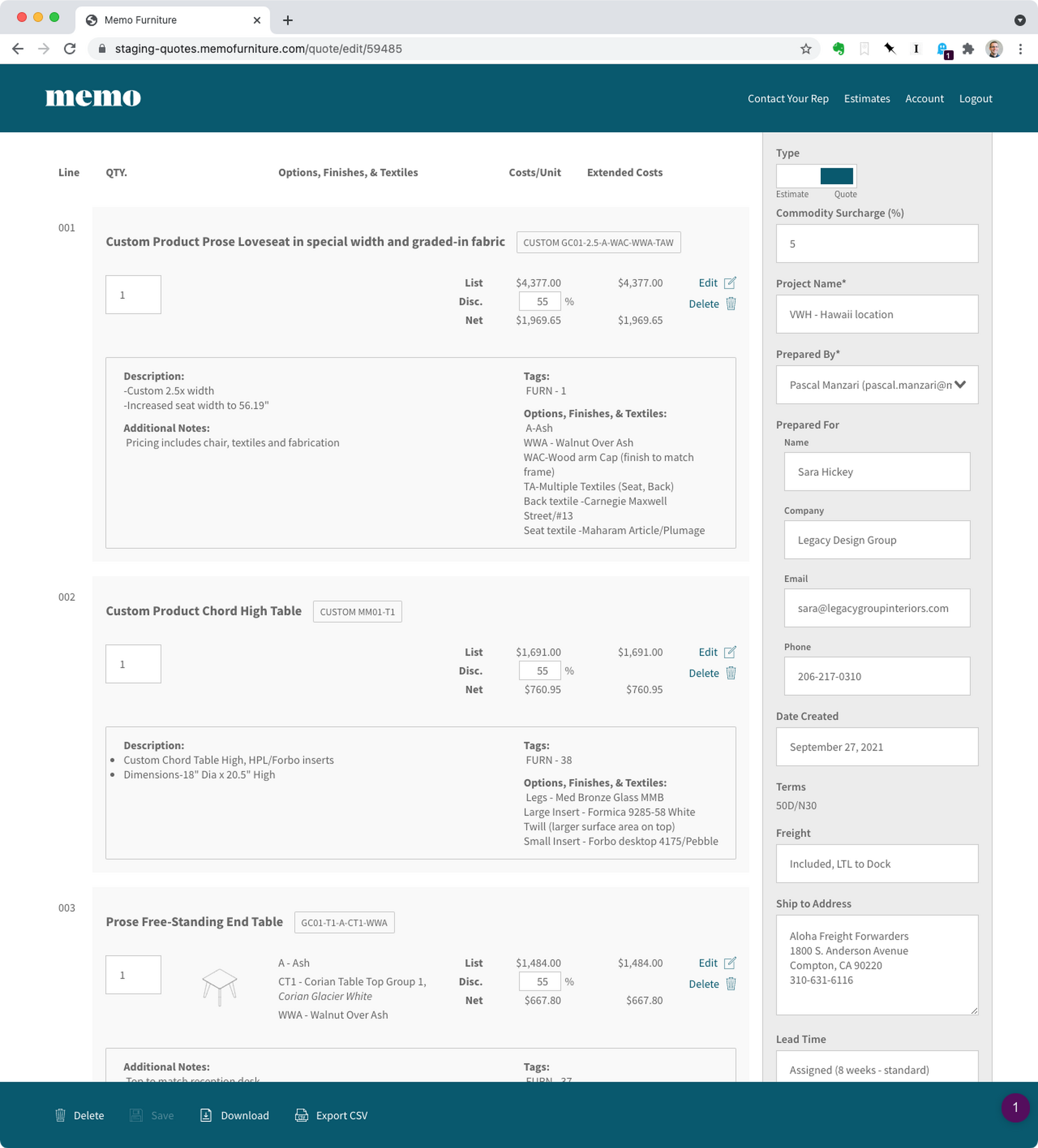 Expire, Renew, Calculate, Download, Export, Delegate, Override
We built the quote tool to grow with Memo as a business. New products and options can be managed in a simple content management system. Quoted prices are locked in at the time of creation, even if the prices change. Quotes will programmatically becomes stale and then, if needed, they can be updated with the latest pricing with a single click. Industry discounts can apply to entire quotes or specific products. We have established multiple levels of permission and features, sales group and rep management, and new custom product options and price adjustments. The Memo quote tool is now a daily operational hub of activity for Memo and its reps.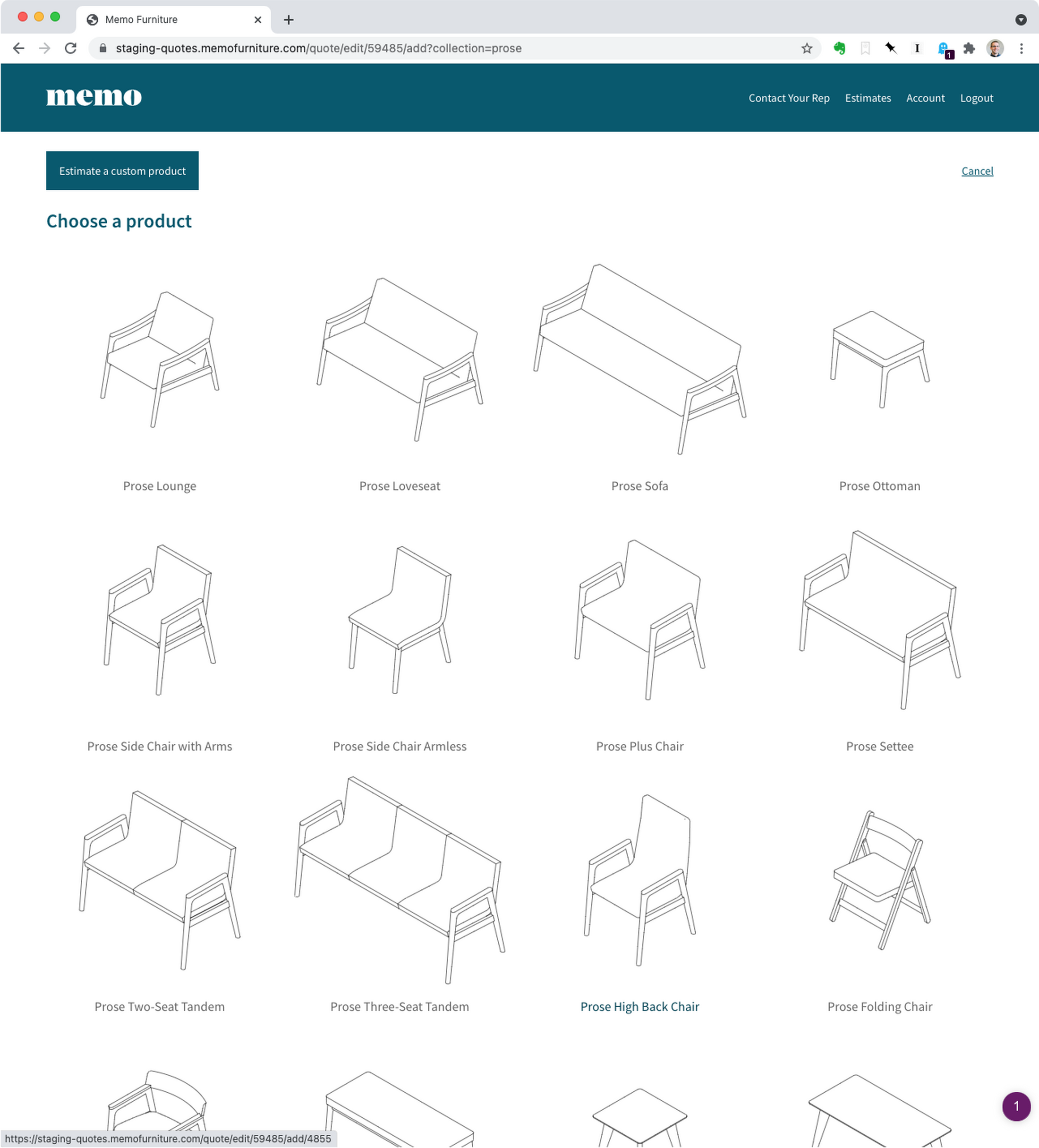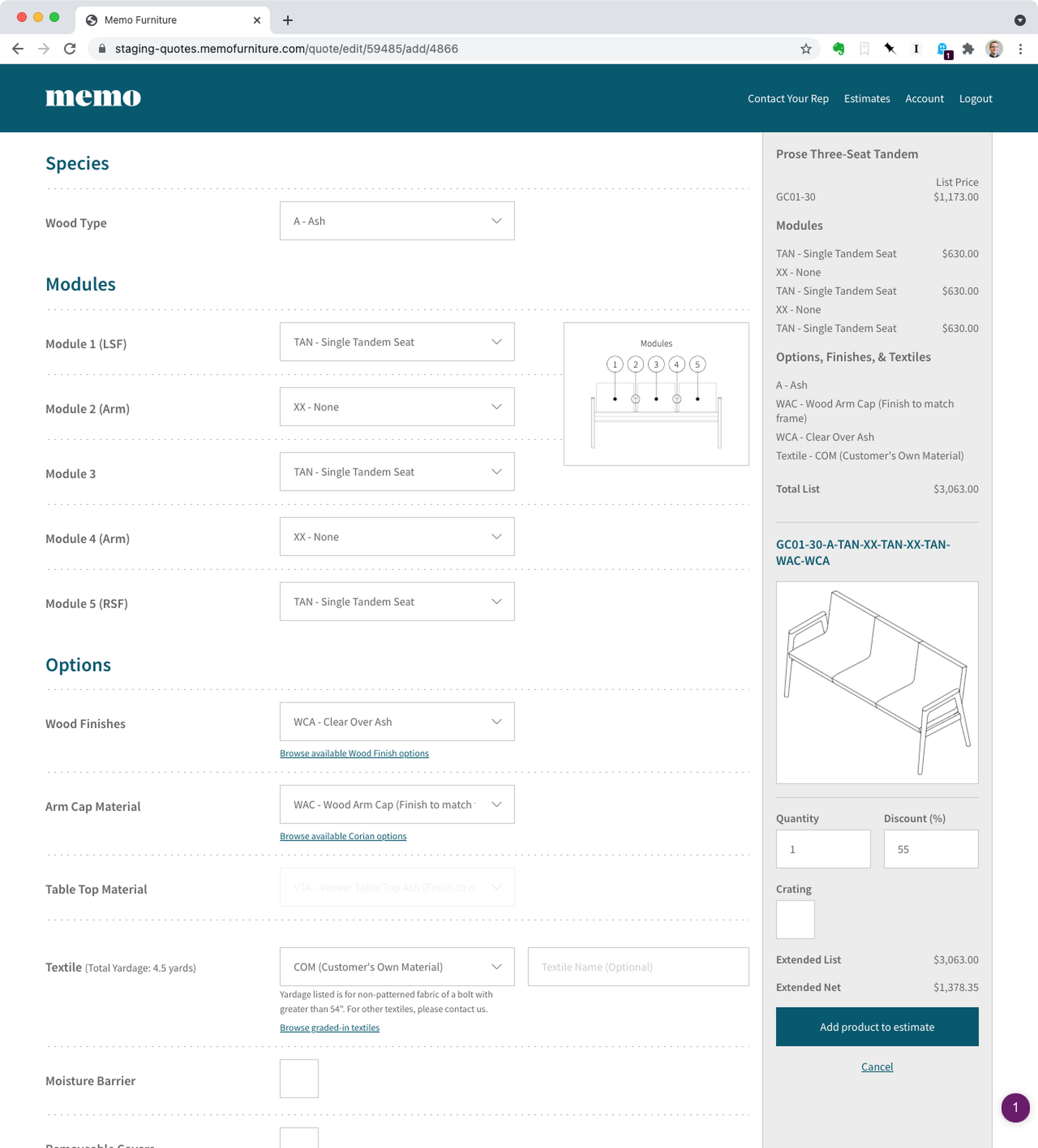 Dave Says
What I appreciate about Mighty, and why I engaged them again is that; they strive to build understanding of their client products and services and add value vs purely executing against a set of criteria; they provide a depth of knowledge and expertise that allows them to survey the work and recommend approaches that best fit budgets-time-resources; they weigh-in with their perspectives and recommendations with the client's best interest in mind; their expertise in furnishings allowed us to hit the ground running relative to understanding our industry and market.
—Dave Simon, Memo Furniture
A headless CMS with a mindful database
Enterprise furniture configuration and quotation tools are expansive and expensive. Their requisite flexibility often creates actual complexity. For a furniture startup, or a small to mid-sized furniture company, they may be overwhelming and overkill. Memo's business philosophy predicated that their technology must always be approachable. At Mighty, we believe that this also means the content management system. We vetted options and selected Craft CMS as a headless CMS. Craft CMS excels at managing custom data and related data, which have been critical capabilities for a system based on products, options, shared materials, prices, quotes of multiple products, and more.

Interested in a demo?
We'd love to demo the Memo quote tool and show you all of its features! Perhaps it's just what you need as a small to mid-size furniture company.
Contact Us