Steeling the show in Pittsburgh
As one of the nation's largest steel service centers, Mill Steel is familiar with what it takes to lead the pack. Headquartered in Grand Rapids with facilities throughout the country, Mill Steel serves some of the world's most demanding industries. They're also a team driven by a people-first culture, who prioritize understanding their customers' needs. Mill Steel turned to Mighty to bring their steel—and their friendly service—to the palm of their customer's hand.
Location
Grand Rapids, MI
Services
Wireframes, Visual Design, iOS App Design, Android App Design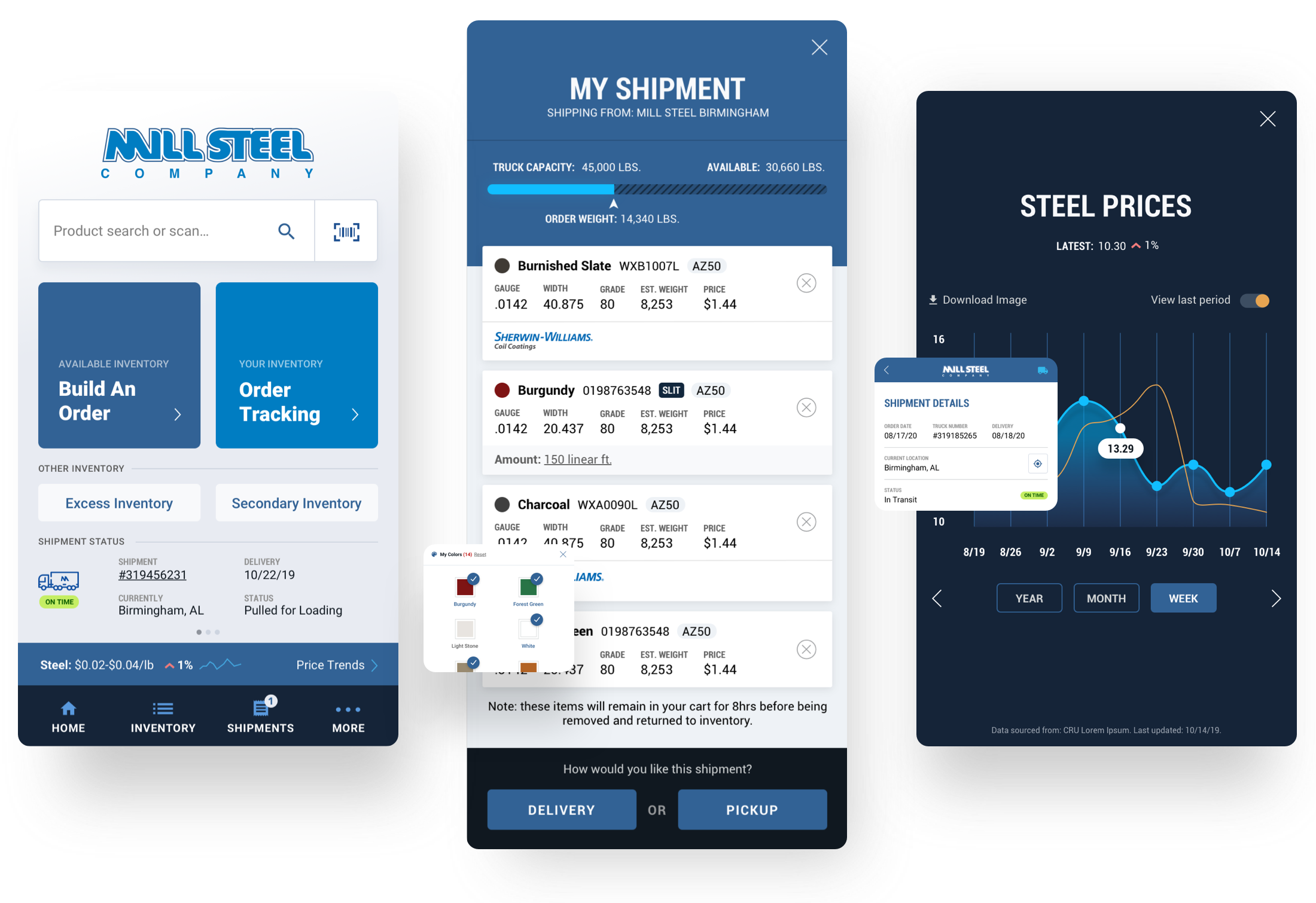 Begin with Understanding
Since 1959, Mill Steel has been delivering on the promise of quality steel delivered well. But in an era of instant ordering and easy customization, Mill Steel recognizes their customers need the right tools for faster ordering and tracking. These days, steel buyers place orders from the shop floor, traveling, and while they're taking inventory in the field (sometimes an actual field). The process needs to be mobile, fast, and easier than calling an order in. Mill Steel needed a mobile app.
Designing an app always begins with an idea for solving a problem. But getting beyond what seems obvious requires listening to your users. So we listened, sketched, took notes, and brainstormed. We interviewed steel buyers from around the country to understand how they buy material, where they are when they make decisions, what product details matter most, and how inventory tracking and reordering works best for them. What we heard validated some of our assumptions and uncovered some new themes that were instrumental in how to move forward. For instance, calculating exactly how much steel from an order will fit on a single truckload is often harder than it needs to be (a theme we heard from most everyone).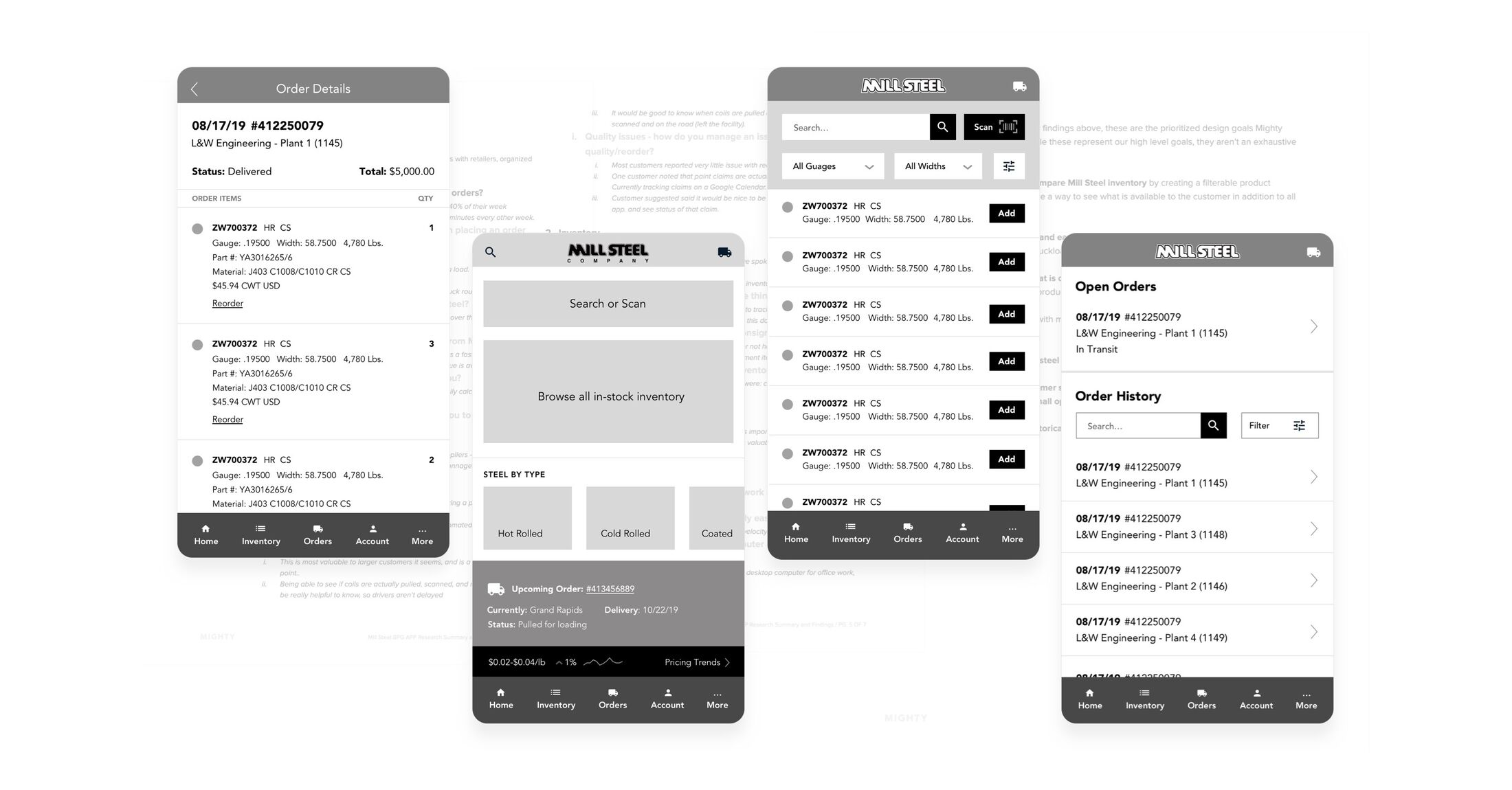 From Prototype to Production
After sharing our findings with the Mill Steel team, the next step was to prototype an app to test with real customers. Mill Steel had a perfect opportunity for us to meet several customers for in-person user tests at Metalcon, the largest metal trade show of its kind. (Admittedly, we initially thought we might be getting an invite to the largest event for metal bands in the country. Sadly that wasn't the case. For any metal bands out there: let's talk about your app needs.)
We got to work, and within weeks we were on-site with a tappable prototype at Metalcon in Pittsburgh. There we met up with many of the same customers we'd interviewed earlier to let them demo the app. The design prototype addressed the issues previously identified in customer interviews, and helped Mill Steel pick up a win in the eyes of some key customers. With renewed certainty about the direction, we were ready to complete the design of the app and prepare for development.
On the heels of our design prototyping phase, we honed in on key design goals for the completed app, including browsing and comparing inventory, increasing checkout speed, making currently available stock available, improving order status tracking, reducing phone calls, and improving forecasts, trends, and historical data for customers.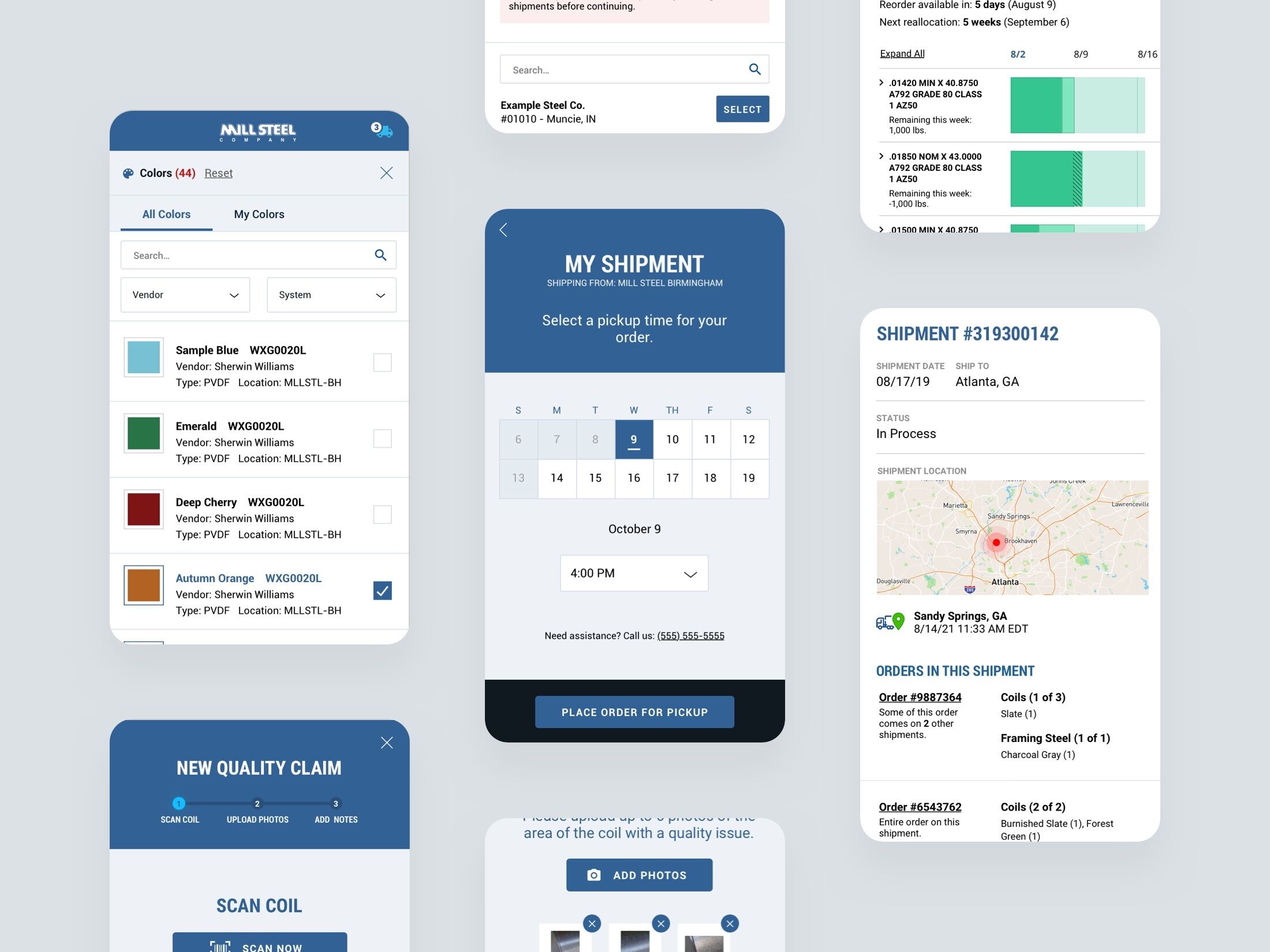 Liftoff!
We provided design direction and quality assurance testing to the Mill Steel development team. Following a successful launch of the app to the Apple App Store, we've continued to work alongside their team to gather feedback from customers, prototype enhancements, and brainstorm future features. We've also started work on a yet-to-be-announced spin-off app that'll rock Metalcon soon. (Also, metal bands: hit us up.)
Understanding customers begins with a conversation.
Building confidence in what you're making means knowing your customers. Our team has the experience to help you gather the insight that you need to build and launch.
Start a Conversation