A mobile-friendly ecommerce experience for a redesigned big screen brand
When they came to us in early 2018, Studio C—formerly known as Loeks Theatres, Inc.—was in the middle of changing pretty much everything. Their nascent identity was a work in progress, and they'd just broken ground a major real estate development in the heart of downtown Grand Rapids that promised to transform both the city and the company. Studio C was quickly becoming an entertainment and lifestyle brand that offered a lot more than movies and popcorn.

In the midst of all this change, Studio C desperately needed a new ecommerce website for their existing core business, Celebration Cinema, a popular regional chain of movie theaters.
Client
Celebration Cinema
Location
Grand Rapids, MI
Services
Strategy, Information Architecture, Wireframes, Visual Design, Technical Direction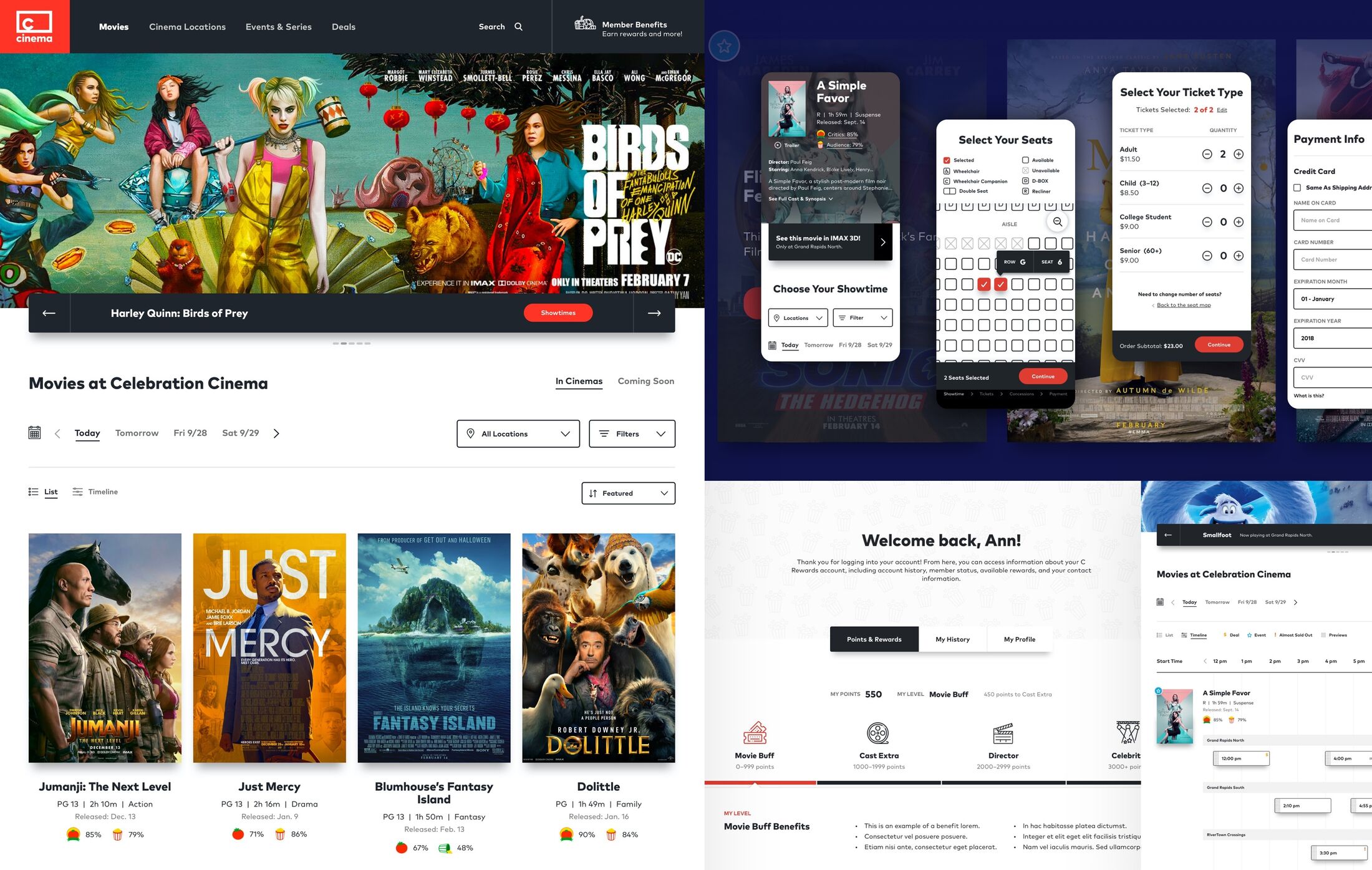 Foundation first
The Studio C team had a strong internal design culture, and cared deeply about the look and feel of the whole user experience. They also knew they needed to get the information architecture right first. The current digital experience was a major frustration for their customers and content admins alike—and would be a major obstacle for their evolving business without proper systems design.
Given the scope and timeline of the project, Mighty proposed a partnership with our friends at TUG (The Understanding Group), an information architecture consulting practice. Together, we set out to create new information architectures and wireframes to support the design and development of a new ecommerce website—and other related "digital places" for Studio C's emerging brands and businesses.

Research and analysis
Over the course of 20 weeks, our Director of Strategy worked closely with the team at TUG through a robust research and strategy phase.
We began with a series of activities to clarify the why (contexts), who (users), and what (business models) of Studio C's initiatives. Through 7 stakeholder interviews TUG and Mighty worked with Studio C to gather impressions of the current site, learn the team's intentions for the future, identify business goals and user needs, and listen for themes. Finally, a full-day workshop with the Studio C core team helped us arrive at a common understanding of desired outcomes and priorities.
Next, we conducted another workshop to identify questions we needed answers to and assumptions we wanted to verify. Armed with these questions, we worked with Studio C to identify, recruit, and interview 12 users. At the same time, TUG conducted a content audit, analyzed web traffic, and reviewed Studio C's current digital properties and their competitive landscape.
We used our analysis of the site and findings from interviews to identify more than 130 user tasks (Jobs To Be Done), define 6 user archetypes, model the current digital landscape, and create journey maps of the user experience. We distilled all of this into 7 key findings.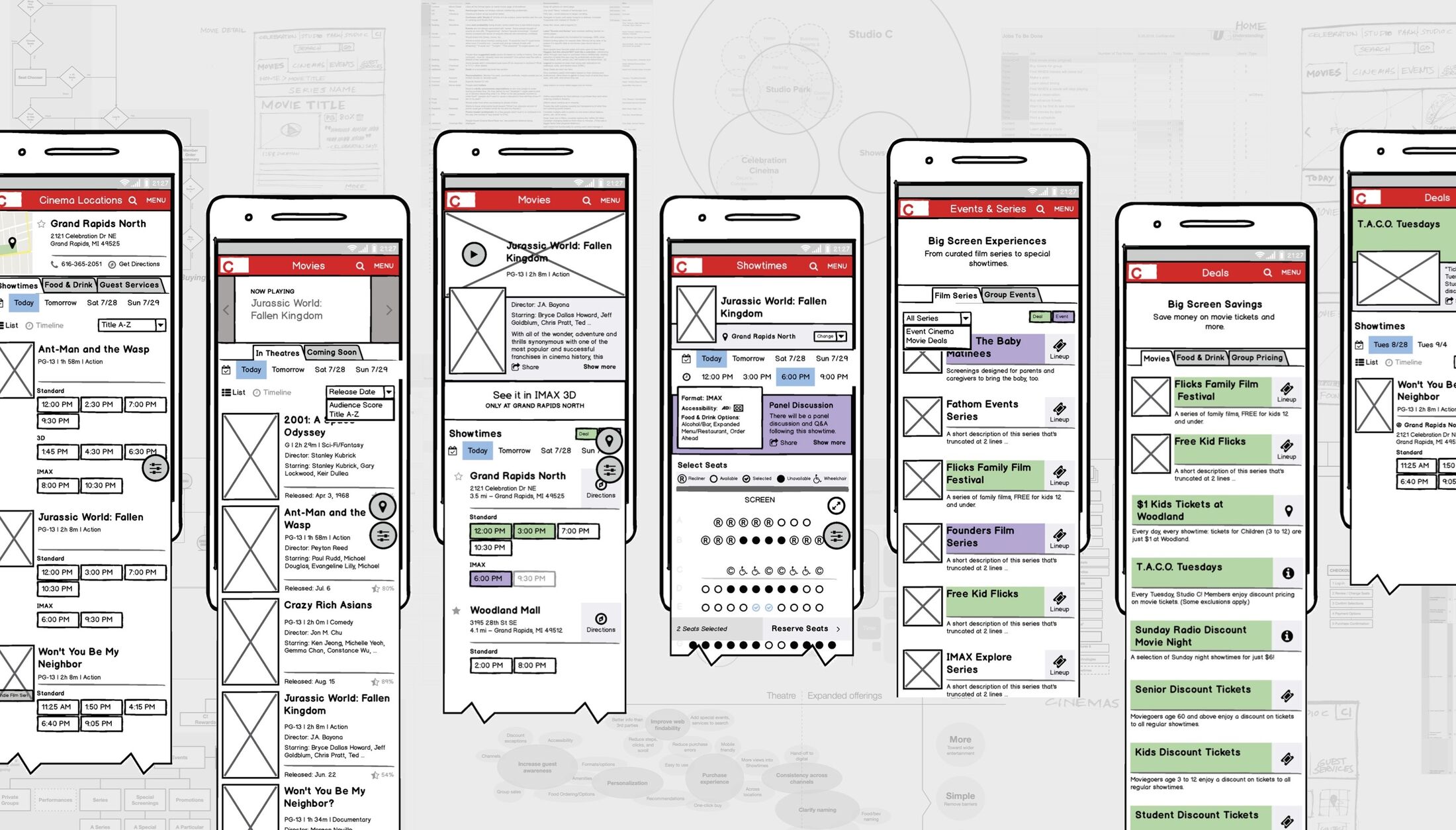 Structural design
Our understanding of the problems, challenges, and opportunities now clearly in focus, we could begin to see and shape the future. TUG and Mighty worked together to design object models and process flows to visualize how users and the business would interact in this new digital space, and began to prototype a conceptual structure.
Mighty's Director of Strategy translated research and findings into navigation systems and user interfaces, designing a detailed low-fi mobile wireframe of the new Celebration Cinema experience. While TUG worked with Studio C to plan and recruit for user testing sessions, Mighty converted the wireframes into a comprehensive 50-screen interactive prototype for user testing.
We tested our prototype with 10 users on mobile and analyzed the sessions. Following testing, we adjusted our designs and solidified our models into a proposed site map.
Visual design
With a solid information architecture in place and confidence from our well-tested prototype, visual design came together quickly. Mighty worked closely with the Studio C team to incorporate and expand their new digital brand into a polished interface that looks and feels great.
Technical direction
Mighty provided technical counsel and direction through the entire process. Although Mighty didn't provide web or software development for this project, we advised the Studio C team on partner selection and guided that partner through the development process to ensure implementation remained faithful to the visual design and its strategic intent. The new experience launched in September 2019.
Have an idea? A project?
Our favorite clients tend to treat us as part of their team (and vice versa). If you're looking to make something digital and interesting, we'd love to help you bring your ideas to life.
Let's talk